Speaking of Okinawa, you may think of the beautiful ocean, warm weather, and Okinawa food. So did I.
However, there's this great steak house in Okinawa, which my friend recommended to me.
If she hadn't told me, I wouldn't have got to eat this great steak. I'd like to share this with you for your information.
Okinawa JACK'S STEAK HOUSE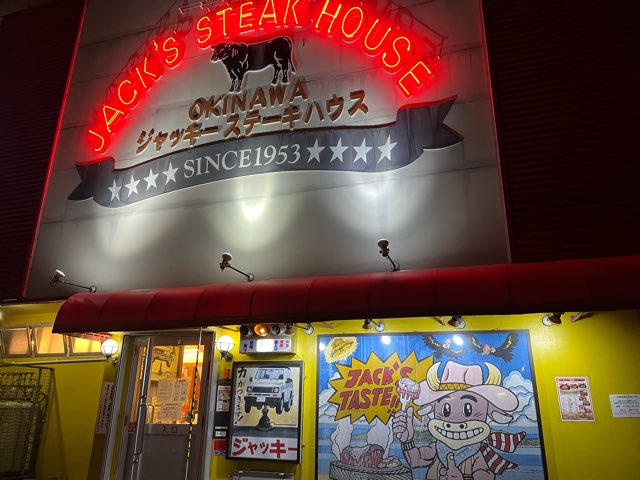 Okinawa used to be under control by the U.S. Thus the American culture affected Japan a lot after the World War 2. Jack's Steak house is one of them. They opened it after the war, and became really popular. Since then, lots of people love this steak house.
JACK'S STEAK HOUSE information
住所:1-7-3 Nishi, Naha City, Okinawa
TEL:098-868-2408
Business Hours:11:00~01:30(L.O.01:00)
Closed :2nd and 4th Wednesday, January 1st, July 15th (in Chinese calendar)
Website (Japanese)
Here I go, JACK'S STEAK HOUSE
It was around 8 pm. I thought it was a bit later than major dinner time, so I thought maybe I could avoid waiting in the line. However, it was way too popular to be like that. There were more than 10 groups of people waiting in the line.
The customers don't stay that long, they just eat and leave, so  you only have to wait for 30 minutes (it depends on the day though). I was so excited to eat the steak, so waiting didn't bother me at all, but if a person whom you'll go with is impatient, that might be a problem.
There were so many autographs written by celebrities who are really popular.
I'd already decided what to eat!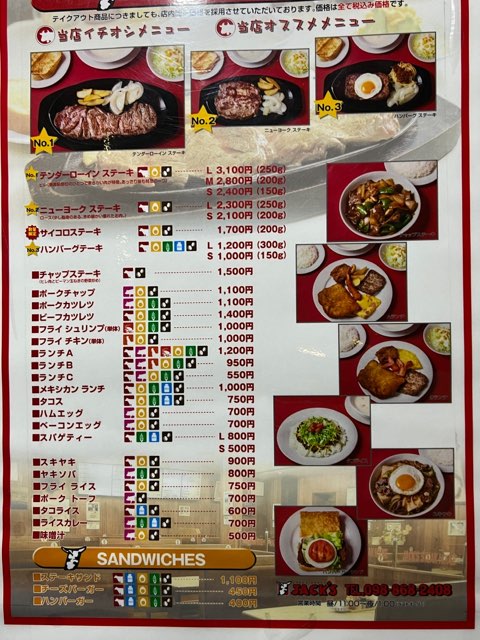 My friend does not live in Okinawa, but every time she comes to Okinawa, she visit this steak house, so it was her 4th time.
I ordered tenderloin steak which my friend recommended.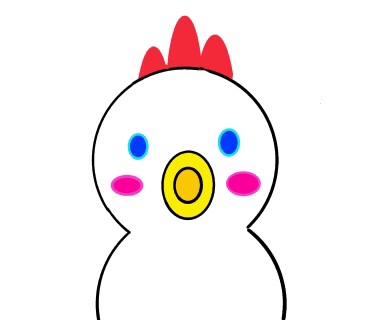 You cant choose by price because it is really worth it.
Here comes the dishes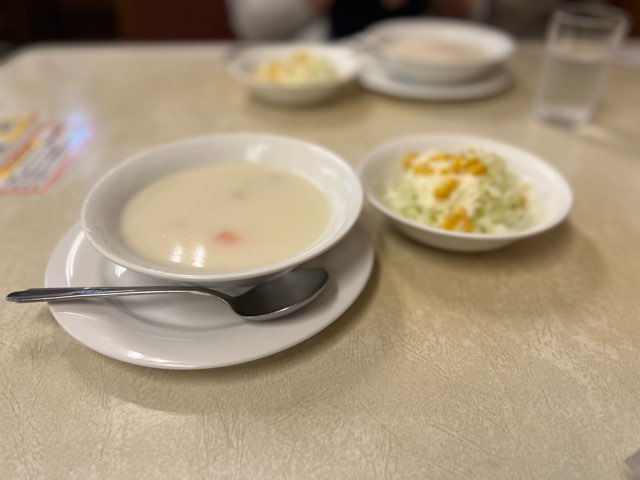 Now you'll have soup and salad. According to my friend, you'd better eat soup before the steak comes, because once it gets cold, it doesn't taste that good.
This is tenderloin steak (200g)
Even the sound the iron plate cause made me even more hungry.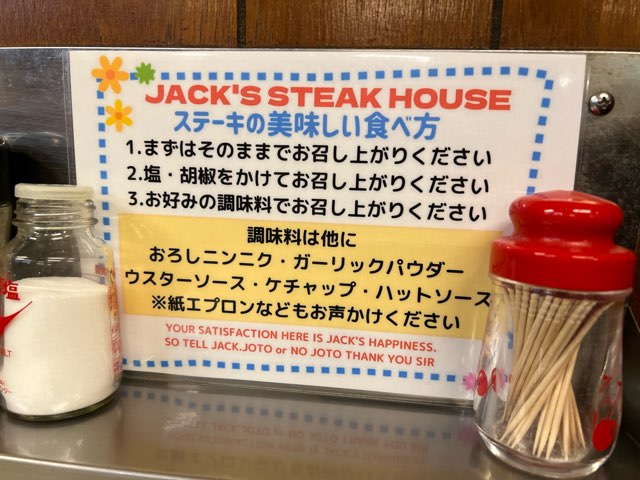 This is the instruction how to eat steak in more delicious way.
You might want to bite the steak without any seasonings. You can feel meat. It was amazing.
Then I ate with salt and pepper. Have you ever eaten steak with just salt and pepper? You can do this only when the steak is real good.
At the last part, it says
There's other seasonings like grated garlic, garlic powder, sauce, ketchup so feel free to ask a staff.
so I ordered the grated garlic and garlic powder, because I do love garlic.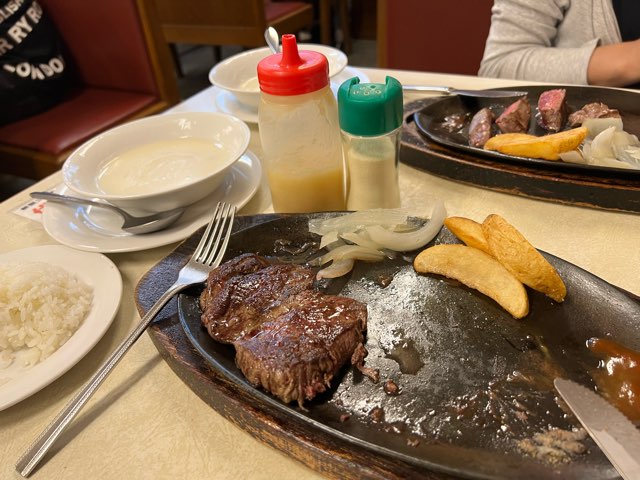 If you visit this steak house on a date, you both have to eat garlic, not only the either one. I got a permission from my friend because we both stayed at a same room.
Having steak with garlic was the best. The grated garlic and salt made the best taste ever! Who cares about the smell?
The recommended size and the way to eat at JACK'S STEAK HOUSE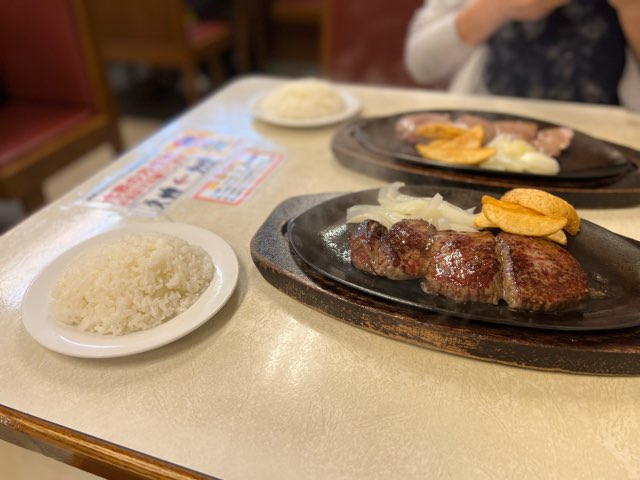 You cannot enjoy chatting and having steak at the same time. The steak gets rough as the time goes by. You have to focus on eating steak first.
Save the fun talk later.
I asked the staff which size is popular, and she said most women order Medium size. I have a huge appetite, but I ate a lot at lunch, so I ordered the medium size, which I regret.
The steak was way too good, so as I ate steak, I got more hungry and wanted to eat more.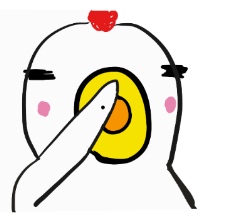 I will definitely order Large size next time.
You must go to JACK'S STEAK HOUSE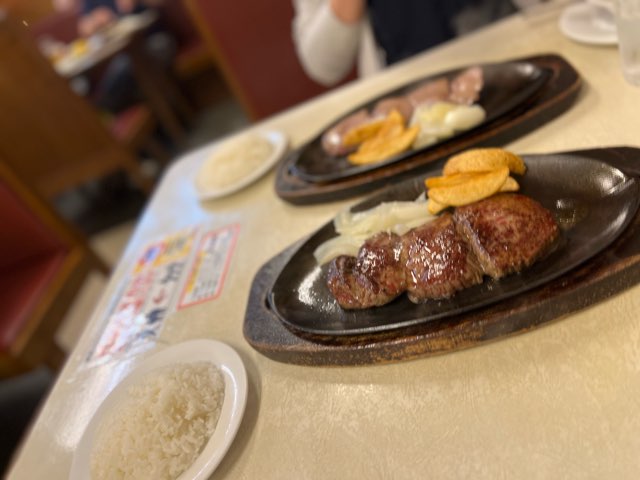 I am not such a steak person, so when my friend said "On the third night, we're going to have steak" , I felt like "okay".
Now, I really appreciate my friend, thanking for letting me "meet" the delicious meat.
It is located in Naha, which is close to the station, so I really recommend putting this JACK'S STEAK HOUSE in your list for traveling in Okinawa.
ジャッキー ステーキハウス (ステーキ / 旭橋駅、県庁前駅、壺川駅)
夜総合点★★★★★ 5.0